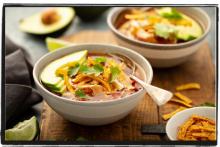 What do you do when it's Taco Tuesday and you're in the mood for soup? Make Taco Soup, of course!
This soup is fantastic! The list of ingredients is pretty impressive, but each one adds a layer of flavor that makes this soup unbelievably delicious. And don't worry, each step is super simple!
1 cup water, plus 3 cups hot tap water
2 teaspoons Better Than Bouillon No Chicken Base

1/2 cup uncooked bulgur
1 tablespoon olive oil
1 large onion, chopped
3 cloves garlic, minced
1 medium green bell pepper, finely diced
4 cups pre-cooked pinto beans, or two 16-ounce cans, drained and rinsed
1 28-ounce can of crushed tomatoes
1 4-ounce can fire roasted diced green chiles
1 tablespoon agave nectar
1/3 cup fresh cilantro, chopped
2 teaspoons chili powder
1 teaspoon ground cumin
1 teaspoon dried oregano
salt & freshly ground pepper to taste
In a small saucepan, bring 1 cup of the water to a boil and add the bulgur. Lower the heat and simmer, covered for 15 minutes, or until all water is absorbed. Remove from heat, stir, then cover and set aside.
Meanwhile, heat the oil in a large soup pot. Add the onion and sauté over medium heat until translucent. Add the garlic and bell pepper and continue to sauté, stirring frequently, until all the vegetables are tender and lightly golden.
Combine the 3 cups of hot water and the bouillon and add it to the soup pot along with the rest of the ingredients, including the bulgur. Stir until everything is combined. Bring the soup up to a boil, lower the heat, cover, and simmer gently for 15 to 20 minutes.
Garnish suggestions:
grated non-dairy cheddar cheese
nondairy sour cream
diced avocado
fresh diced tomatoes
black olives
shredded lettuce
fresh chopped cilantro
Tortilla strips or chips
Taco Soup is a great make-ahead soup as the flavor intensifies and it's even more delicious the next day. Just reheat over medium heat for 20 to 30 minutes until heated all the way through.