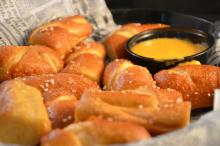 Soft Pretzels are so delicious! The buttery outer crust sprinkled with the perfect amount of salt and the soft center... oh, yum! They're just so good!
1 ½ cups water, warm
1 tablespoon salt
1 tablespoon sugar
1 packet active dry yeast
4 ½ cups of all-purpose flour
3 tablespoons oil, divided
⅔ cup baking soda
3 tablespoons Aquafaba (whipped), or coconut oil (melted)
coarse salt for sprinkling
In a large mixing bowl, combine the water, salt, and sugar. Stir in the yeast, and let the mixture rest for about 5 minutes or until the yeast begins to foam.
Add the flour and the 2 tablespoons of oil, and mix until a dough forms.
Remove the dough and use the reserved 1 tablespoon of oil to grease the inside of the bowl.
Replace the dough and cover the bowl with plastic wrap. Leave the bowl in a warm place for one hour. (The inside of your oven with only the light turned on inside is the perfect place).
Remove the bowl from the oven, and preheat your oven now to 450° F.
Cut the dough into 8 to 10 pieces. Roll each piece one at a time into a thin rope about 12" long, twisting the rope as you go. Next, cut the rope into 3 pieces.
Add baking soda to a large pot of water, and bring the mixture to a rolling boil. Boil the cut pretzel sticks for about 60 seconds turning as you go. Do this in batches of no more than 4 to 6 pretzels at a time, depending on the size of your pot.
Using a Spider Strainer or a large slotted spoon, remove the pretzel sticks and transfer them to a baking sheet covered in parchment paper and brush with a thin layer of aquafaba (or coconut oil), and sprinkle with coarse salt.
Bake for 8 to 10 minutes, or until golden brown.
Serve them with mustard or our delicious cheese sauce!
Contains
Egg replacer
Oil
Wheat Flour