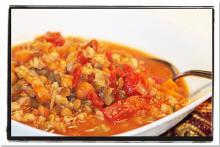 This soup combines a duo of lentils and barley for a hearty soup that is perfect in the fall but delicious all year round. Serve with our Cheese and Garlic Drop Biscuits, and a crisp garden salad for a delicious and satisfying meal.
2 tablespoons olive oil
1 medium onion, chopped
3 cloves garlic, minced
6 cups water, plus 2 cups
1/2 pound raw lentils, rinsed
3/4 cup pearl barley, rinsed
2 large stalks celery, diced
2 large carrots, diced
1 generous cup shredded green cabbage
1 28-ounce can of diced tomatoes, undrained
1/4 cup dry red wine
2 tablespoons apple cider vinegar
1/3 cup chopped fresh parsley
2 teaspoons seasoned salt
1 tablespoon vegan Worcestershire sauce
2 teaspoons paprika
1/4 teaspoon basil
1/4 teaspoon oregano
1/2 teaspoon red pepper flake
1 large bay leaf
salt and freshly ground black pepper to taste
Heat the oil in a large soup pot. Add the onion and saute over medium-low heat until the onion is translucent. Add the garlic and continue to cook, stirring until both are golden.
Add the remaining ingredients except for the salt and pepper. Bring the soup to a rapid simmer, then lower the heat. Cover and simmer gently for about 45 minutes, occasionally stirring until the lentils, barley, and vegetables are all tender.
Uncover, add two more cups of water to the pot. Return to a rapid simmer, then reduce the heat and simmer gently for another 5 minutes.
Add salt and freshly ground black pepper to taste.
If time allows, let the soup stand off the heat for 1 to 2 hours, then heat through once more just before serving.
Refrigerate any unused soup for up to one week or freeze for up to three months.