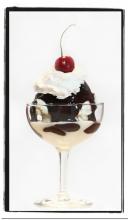 If you love chocolate as much as we do, you'll love everything about this Ice Cream Sundae covered with our homemade Chocolate Sauce. You can purchase non-dairy ice cream or check out our homemade ice cream recipes below for a fabulous dessert that's guaranteed to satisfy anyone's sweet tooth!
Chocolate Sauce:
1 1/2 cups powdered sugar
6 Tbsp unsweetened cocoa powder
pinch of salt
1/2 cup canned coconut milk, mix well before measuring
1 Tbsp vanilla
In a small saucepan, whisk together powdered sugar, cocoa powder, and salt. Over medium-high heat, slowly whisk in coconut milk. Continue to cook while frequently whisking until well combined and mixture begins to boil. Reduce heat to low and whisk in the vanilla. Allow to cook for another minute and remove from heat. Transfer fudge mix to a small canning jar with a lid if you have one. If not, any heat-proof container will work.
To assemble the chocolate sundaes, scoop the ice cream into individual dessert cups. Top with chocolate sauce, vegan whipped cream topping, and a fresh cherry. Use any other toppings you like, such as shredded coconut, peanuts, or toasted almonds.
Refrigerate any unused portion for up to 2 weeks.
Contains
Chocolate
Ice Cream
Milk (non-dairy)
Soy