Category
Sauces, Dips, Dressings & Spreads
Side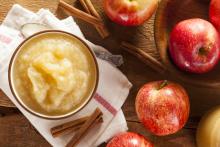 Homestyle Applesauce you make in your slow cooker! It doesn't get any easier or more delicious than this!
8 to 10 medium cooking apples, peeled and diced (Jonagold, Jonathan, or McIntosh)
1/2 cup water
3/4 cup sugar
Cinnamon
In slow-cooking pot, combine apples and water.
Cover and cook on low for 4 to 6 hours or until apples are very soft.
Stir in the sugar and cook on low another 30 minutes.
Sprinkle each serving with a pinch of cinnamon.
Makes about 4 cups.
Note: This applesauce is slightly chunky. If a smooth sauce is preferred, puree or sieve cooked apples.