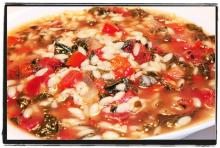 This soup comes together quickly and tastes like it's been simmering all day. Serve it up with a Greek Style salad and some whole grain bread for a delicious and satisfying meal the entire family will love.
1 1/2 tablespoons olive oil
1 cup chopped sweet onion
1 large red bell pepper, diced
2 to 3 cloves garlic, crushed
6 cups hot water
3 tablespoons Better Than Bouillon No Chicken Base

1 14.5-ounce can of diced tomatoes
1/2 teaspoon dried parsley
1/4 teaspoon dried oregano
1/4 teaspoon dried basil
1/4 teaspoon red cayenne pepper
1/4 teaspoon dill weed
3/4 cups orzo (rice-shaped pasta)
6 ounces fresh spinach (about 4 cups) washed, stemmed, and chopped
Juice of 1 lemon
Salt and freshly ground pepper to taste
Heat the oil in a soup pot. Add the onion and sauté over medium heat until translucent, about 5 minutes. Add the bell pepper and garlic and sauté the vegetables for another 5 to 7 minutes or until the onion turns golden and the pepper softens. Stir in the water and the bouillon.
Drain the liquid from the canned tomatoes into the soup pot, then finely chop them and add them to the soup. Stir in the parsley, oregano, basil, cayenne pepper, and dill. Bring to a boil, lower the heat, cover, and simmer gently for 25 to 30 minutes.
Add the spinach and the orzo and continue to cook for 10 minutes. Remove from heat and stir in the lemon juice.
Season with salt and pepper and enjoy!