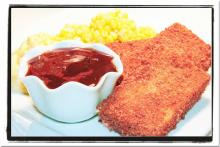 You can prepare tofu in many ways, but if you want it to be crispy-crunchy, this is the recipe you need. Can you say "KAH-RUNCH!"
1 package extra firm organic tofu
1 cup Silk soy creamer
1 tablespoon white vinegar
1 tablespoon prepared Coleman's Mustard
1/2 teaspoon sea salt
3/4 cup all-purpose flour
1 tablespoon poultry seasoning
1 teaspoon sea salt
1/2 teaspoon freshly ground black pepper
1 teaspoon smoked paprika
1 cup panko crumbs
Oil for frying, vegetable, or canola
Use a Tofu Press (see below) to remove the moisture from the tofu OR wrap the block of tofu in a clean towel and place it on a baking sheet. Balance a second baking sheet over the top. Add a weight to the top baking sheet and set aside for about 15 to 20 minutes. Change the towel if needed. You want the tofu to be as dry as possible before frying.
Meanwhile, in a medium bowl, add the soy creamer, vinegar, mustard, and salt. Whisk it all together until well combined, and set aside.
Add the flour, poultry seasoning, salt, pepper, and paprika in a separate medium bowl. Whisk it all together until well combined, and set aside.
Place 1 cup of panko breadcrumbs in another medium-size bowl. Set aside.
Add about 1/4-inch of oil to a frying pan over medium heat.
Cut the tofu into six pieces. Dip each piece into the cream mixture, one at a time, then dredge it in the flour mixture. Set it on a baking sheet and follow with the remaining fillets until they're all coated.
Re-dip each fillet in the cream mixture a second time, then coat with the panko breadcrumbs.
Test if the oil is hot enough by dropping a small crumb of panko into the skillet. When it begins to sizzle, the oil is ready.
Fry the fillets for a few minutes on each side until crispy and golden brown. (don't crowd them, or they won't brown properly) Adjust the heat as needed. Remove and drain the fillets on a paper towel to remove the excess grease.
Serve with your favorite gravy or dipping sauce.