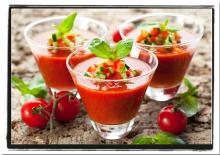 Gazpacho is a cold-soup-summertime-favorite that is perfectly delicious! It's a gorgeous blend of pureed vegetables mixed to create a powerhouse punch of nutrients and flavor.
2 organic cucumbers, seeded, reserve 1/2 of one cucumber
1 red bell pepper, cored and seeded, reserve 1/2
1 orange bell pepper, cored and seeded, reserve 1/2
12 to 15 plum tomatoes
1/4 cup red onion
2 garlic cloves, minced or crushed
2 fresh basil leaves
2 cups of filtered water
1/4 cup white wine vinegar
1/4 cup good olive oil
1/2 tablespoon kosher salt
1/2 teaspoon freshly ground black pepper
1/4 teaspoon cayenne pepper
2 tablespoons freshly squeezed lemon juice
extra basil leaves for garnish
Roughly chop the cucumber and bell peppers, reserving the amount mentioned above. Next, halve the tomatoes and rough chop the red onion. Combine the vegetables, garlic, basil, and water in a blender and blend until smooth.
Add the vinegar, olive oil, salt, pepper, cayenne, and lemon juice, and pulse just until combined.
Finely dice the reserved vegetables.
To serve, pour the gazpacho into a large soup tureen or fill individual serving bowls and garnish with the diced vegetables and fresh basil leaves.
Chill before serving. The longer the gazpacho sits, the more the flavors will develop.
Refrigerate any leftovers.