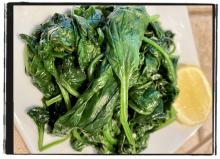 You haven't tasted Sauteed Spinach this good until you've eaten this sauteed spinach. Popeye would be proud!
2 pounds fresh tender spinach leaves
2 tablespoons extra virgin olive oil
2 tablespoons garlic, minced
2 teaspoons sea salt
1 teaspoon freshly ground black pepper
1 tablespoon Earth Balance butter
1 lemon (halved)
sea salt (optional)
Rinse the spinach thoroughly in cold water, and spin dry in a salad spinner, leaving the leaves slightly wet.
Heat the olive oil and sauté the garlic over medium heat for about a minute in a large pot. Be careful not to let the garlic brown. Add the spinach, salt, and pepper to the pot.
Using a wooden spoon, toss the spinach leaves with the garlic and oil, cover the pot, and continue to cook for 2 minutes.
Uncover the pan, turn the heat to high, and cook the spinach for another minute, stirring continuously until all the spinach has wilted.
Using a slotted spoon, lift the spinach into a serving bowl, top with vegan butter, and the juice of one-half lemon. Sprinkle with additional sea salt if desired.
Cut the reserved half of lemon into 4 - 6 slices (one for each serving), and arrange them alongside the spinach.
Serve warm.