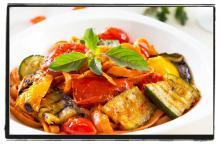 Vegetables, pasta, and loads of flavor; this dish has it all and is one of our all-time favorites!
2 small zucchini, halved lengthwise
1 red bell pepper, seeds removed and halved
1 small eggplant, sliced lengthwise into 1/2-inch pieces
1/2 pound uncooked fettuccine
3 tablespoon olive oil, divided
3 tablespoons tomato paste
1/2 cup prepared vegetable broth
1 small onion, diced
2 garlic cloves, minced or crushed
1 cup cherry tomatoes
salt and freshly ground black pepper
Lightly oil a grill pan and place it over medium-high heat. Season the vegetables lightly with salt and pepper, then place the zucchini, bell pepper, and eggplant on the grill to cook for approximately 3 to 5 minutes on both sides, or until the vegetables are fork-tender. Transfer all of the vegetables to a plate. Cut them into smaller pieces when they're cool enough to handle and set them aside.
Meanwhile, cook the pasta as instructed, then drain and return the pasta to the pot. Add two tablespoons of the extra virgin olive oil, tomato paste, and vegetable broth. Stir to combine—season with salt and pepper to taste.
Lastly, heat a tablespoon of olive oil in a large skillet. Sauté the onion until translucent, then stir in the garlic and the tomatoes. Next, add the grilled vegetables and toss to combine.
At this point, you can do individual servings or add to a family-style serving bowl and toss to combine. Serve the pasta with fresh basil, and enjoy!