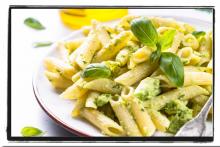 If you love guacamole and pasta as much as we do, you're going to love everything about this dish!
Heart-healthy avocados processed with fresh basil, lime, avocado oil, garlic, and sea salt create this creamy pasta sauce that is utterly irresistible.
10 ounces uncooked pasta
1 to 2 cloves garlic
1/4 cup lightly packed fresh basil leaves, plus more for serving
juice of one lemon
1 tablespoon water
1 tablespoon avocado or olive oil
1 ripe avocado, pitted
pinch of sea salt
freshly ground black pepper
2 tablespoon vegan parmesan
Bring a large pot of heavily salted water to a boil. Cook the pasta according to the directions on the package.
Meanwhile, add the garlic and basil to a food processor and pulse to mince.
Add the lemon juice, water, avocado, oil, sea salt, pepper, and vegan parmesan. Continue to process until smooth, scraping down the sides as needed.
Drain the pasta and place it back into the pot. Add the avocado mixture and stir until well combined.
Sprinkle with extra parmesan if desired and garnish with fresh basil.
Serves 4