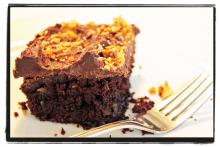 These fudgy brownies are insanely rich and incredibly decadent. Your sweet tooth will thank you. And your chocolate craving? Well, it's hoping you'll make a double batch, of course!
3/4 cup whole wheat pastry flour
3/4 cup brown rice flour
1/2 cup unsweetened cocoa powder
1 teaspoon baking powder
1 1/2 teaspoon baking soda
1 teaspoon salt
1 1/2 cups brown sugar
3/4 cup non-dairy milk
3/4 cup brewed coffee
1/2 cup vegetable oil
3/4 cup walnuts, toasted and chopped (reserve 1/4 cup)
Frosting
1 1/2 cups semi-sweet chocolate chips (or other non-dairy chocolate)
1/4 cup Earth Balance butter
1 tablespoon non-dairy milk
Preheat oven to 325°
Lightly grease an 8" or 9" square baking pan.
Sift together the flours, cocoa powder, baking powder, baking soda, and salt in a large mixing bowl. Stir in the sugar. In a separate bowl, stir together the milk, coffee, and oil. Add the wet ingredients to the dry ingredients and stir until well combined. Finally, stir in 1/2 cup walnuts.
Pour the batter into the prepared pan and bake for 30 to 35 minutes or until a toothpick inserted in the center of the pan comes out clean. Place the pan on a wire rack to cool completely.
Once the brownies have cooled, prepare the frosting by combining the chocolate chips, butter, and milk in a double boiler. First, place 1" of water in a saucepan or pot and bring it to a gentle simmer. Next, place the second pot or a safe heat bowl on top so that the bottom is not touching the water. Add all ingredients to the top pot/bowl and occasionally stir with a spatula until the mixture is melted and smooth. Pour the frosting over the brownies and spread it out evenly. Sprinkle with the remaining 1/4 cup toasted walnuts.
Note: For added flavor, lightly toast the walnuts before sprinkling them on top of the brownies by spreading the nuts in a single layer on a baking sheet. Place them in a 350° oven for 7 to 10 minutes, or until lightly browned and fragrant, stirring halfway through. Transfer the nuts to a plate to cool.