Category
Sauces, Dips, Dressings & Spreads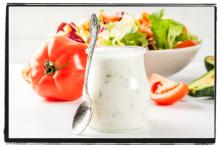 This creamy herb salad dressing is delicious on a fresh garden salad. It's filled with fresh herbs and lemon for a light but flavorful dressing you can enjoy anytime.
Here's what you need:
1 cup vegan mayo
1 cup dairy-free sour cream
Juice and zest of one lemon
1/2 cup fresh parsley
1/2 cup fresh cilantro
1/4 cup fresh basil leaves
1/2 teaspoon black pepper
Add all ingredients to a small mixing bowl and stir to combine.
This dressing can be enjoyed right away, but it's recommended to refrigerate it for a few hours to enhance the flavors.
Keep refrigerated and enjoy within 7 to 10 days.