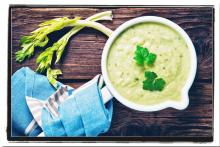 Creamy Celery Soup is the perfect cold-weather soup. It's creamy, smooth, comforting, delicious, and of course, it's vegetarian and vegan-friendly.
12 to 15 large ribs (or stalks) of celery (5 cups chopped)
3 tablespoons olive oil
1 large onion, chopped
1 tablespoon roasted garlic, minced
2 tablespoons unbleached white flour
3 medium russet potatoes, peeled and diced
5 cups hot water (approximate)
1 tablespoon Better Than Bouillon No Chicken Base (or one vegetable bouillon cube)
1/2 teaspoon seasoned salt
2 tablespoons parsley
1/2 teaspoon dill weed
1/2 teaspoon celery salt
1/8 to 1/4 teaspoon cayenne
1/2 cup soy creamer
salt and freshly ground black pepper
Trim the bottom 2-inches off the stalk of celery. Then trim the tops if needed. Peel a thin layer on the backside of each rib to remove strings. Cut the ribs of celery into 1/2-inch slices, reserving two of the ribs. Then cut the remaining two into 1/4-inch dice and set them aside.
Heat 2 tablespoons of olive oil in a large soup pot. Add the onion and garlic and saute over medium heat until the onion is translucent and slightly golden.
Stir in the flour. Add the celery, potatoes, and just enough water to cover (about 5 cups). Stir in the bouillon, and bring to a boil, then lower the heat. Stir in the seasoned salt, parsley, dill weed, celery salt, and cayenne. Add the celery leaves to the pot, cover, and simmer gently for 20 to 25 minutes, or until the vegetables are tender. Remove from heat.
Use an immersion hand blender to puree the soup in the pot until smooth. If you don't have an immersion blender, transfer the vegetables using a slotted spoon into a blender and blend until smooth. Return the vegetables to the pot over low heat and stir in the creamer.
Heat the remaining 1 tablespoon of olive oil in a small skillet. Add the reserved celery and saute over medium heat until tender. Stir into the soup and season to taste with salt and freshly ground black pepper.
Refrigerate leftovers for up to 3 days.