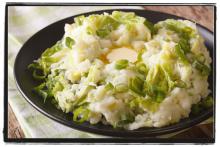 Colcannon is a traditional Irish dish that combines creamy mashed potatoes with tender cabbage and onions to create the ultimate comfort food.
4 pounds of russet potatoes, peeled and cut to approximately 2-inch cubes
3/4 cup warmed non-dairy cream or milk
2/3 cup vegan butter, melted
1/2 head of green cabbage, chopped
1 white onion, diced
4 tablespoons butter, divided
1/4 cup diced scallions, green parts only
Place the potatoes in a large pot of cold water and heat over medium-high heat to a boil. Reduce the heat and simmer for 10 to 12 minutes or until the potatoes are fork-tender.
Meanwhile, prepare the cabbage and onion. Chop the cabbage into 1-inch pieces, and dice the onion into 1/2-inch pieces.
Melt 2/3 cup of butter in a large skillet over medium heat. Add the cabbage and onion and cook until the cabbage is tender and the onion is translucent.
When the potatoes are cooked, strain off the water and return them to the pot. Add the 3 tablespoons of butter and the cream and mash until the potatoes are smooth and creamy. Season with salt and pepper to taste.
Fold in the cabbage and onion until well combined. Add to a serving dish and top with 1 tablespoon of butter, and garnish with green onion. If you like, you can also garnish with vegan bacon.