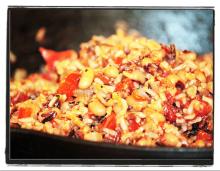 Nutritious and full of flavor, this dish has it all! It's an easy weeknight meal and a delicious family favorite.
1 tablespoon extra virgin olive oil
1 large yellow onion, finely diced
1 red Bell Pepper, finely diced
3 garlic cloves, minced
1 15-ounce can of diced tomatoes
1/3 cup water
1/2 teaspoon smoked paprika
1/2 teaspoon basil
1/2 teaspoon thyme
1/2 teaspoon oregano
1/2 teaspoon liquid smoke
3 cups cooked wild rice (not instant)
1 15-ounce can of black-eyed peas
Salt and pepper to taste
1/4 cup chopped fresh basil for garnish or other fresh herbs (optional)
Heat the oil in a large skillet over medium heat.
Saute the onion, bell pepper, and garlic for 3 to 4 minutes or until the onion is translucent. Next, add the tomatoes, water, smoked paprika, basil, thyme, oregano, and liquid smoke.
Bring the mixture to a simmer and cook for 10 minutes. Stir in the rice and black-eyed peas. Continue cooking for an additional 15 minutes, stirring occasionally.
Remove the skillet from the heat. Stir in chopped fresh basil if used and serve immediately.
Refrigerate any leftovers.