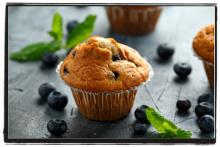 My good friend Jennifer shared her recipe for blueberry buckwheat muffins, and they are absolutely delicious. They're also naturally gluten-free and couldn't be any easier to make.
While her original recipe calls for honey, maple syrup works perfectly in this recipe and is a great vegan alternative.
1 cup oat flour
1/2 cup buckwheat flour
1 tablespoon baking powder
1/2 teaspoon salt
1/8 teaspoon baking soda
1 1/4 C blueberries (fresh or frozen)
1/3 cup pure maple syrup
1/2 cup + 2 tablespoons applesauce
Sift or mix dry ingredients. Stir in blueberries.
Separately, mix wet ingredients. Then, fold liquids into dry ingredients, mixing just enough to wet the flour.
Spoon into a greased 6-muffin tray (or use muffin cups).
Bake for 25-30 minutes at 375°.