Category
Sauces, Dips, Dressings & Spreads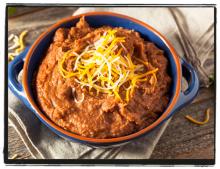 This recipe is perfect when you want restaurant-quality black Beans that are both quick and simple to make. You can transform ordinary canned beans into a delicious main dish, side dish, or appetizer by adding a few ingredients. Whether you eat them straight out of the bowl, use them in a wrap, or serve them with your favorite tortilla chips, you'll love them!
1 tablespoon extra virgin olive oil
1/4 cup onion, finely chopped
2 garlic cloves, crushed
1 15-ounce can of black beans
1/4 cup water
5 sprigs of cilantro, stems removed and finely chopped
1/2 teaspoon cumin
1/2 teaspoon chili powder
1/4 teaspoon sea salt
1/8 teaspoon cayenne pepper (optional)
vegan cheese shreds (optional)
Heat the olive oil in a small pot over medium heat. Add the onion and cook until semi-translucent. Add the garlic and continue to cook, stirring until fragrant, 1 to 2 minutes more.
Add the beans, including the liquid, then add the water, cilantro, cumin, chili powder, salt, and cayenne. Bring the mixture to a bubble, then lower the heat and simmer for about 10 to 15 minutes, uncovered, until most of the water has evaporated.
With a potato masher or the backside of a wooden spoon, mash the bean mixture until mostly smooth. Top with your favorite vegan cheese shreds, diced green onion, jalapeno, or freshly chopped cilantro - or go crazy and top will all four!
Refrigerate any leftovers and enjoy them within 3 to 5 days.