Category
Sauces, Dips, Dressings & Spreads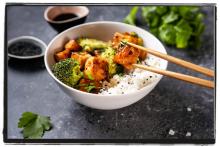 There are many marinades for tofu, but this Asian Tofu Marinade is deliciously sweet, zesty, and easily one of my favorites. It could just be your tofu's new BFF!
Here's what you need:
1 to a 1-1/2-inch knob of fresh ginger, skinned and minced or grated
2 large cloves of garlic, minced or grated
2 tablespoons maple syrup
1/4 cup soy sauce, tamari, or coconut liquid aminos
1 tablespoon toasted sesame oil
1 tablespoon extra virgin olive oil
1 tablespoon sriracha
1/4 to 1 teaspoon hot Chinese mustard, to taste
Add the above ingredients to a small mixing bowl and whisk until thoroughly combined. It's now ready to use.
Place the tofu into a large flat dish and pour the marinade over the tofu. Gently turn the tofu to coat all sides. Cover, refrigerate, and let marinate for at least 30 minutes or overnight.
Your tofu is now ready to enjoy as is, or cook using your favorite method, and add it to whatever you like; rice bowls, ramen bowls, salads, or use it for sushi!