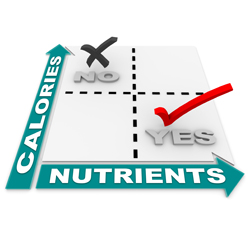 Nutrient density measures the benefits you get from a food product compared to the number of calories it contains. Nutrient-dense foods give you the most nutrients possible for the least amount of calories. For example, some energy bars provide you with 15 % of your daily folate requirement for about 200 calories. But a cup of raw spinach will give you the same amount of folate for only seven calories.
Joel Fuhrman, MD developed the Aggregate Nutrient Density Index, otherwise known as the ANDI scale. It measures several key nutrients in a food product relative to its calories.
The nutrients included in the ANDI scale are calcium, carotenoids, lycopene, fiber, glucosinolates, iron, magnesium, niacin, selenium, B vitamins, vitamin C, and E, and Zinc, plus ORAC (Oxygen Radical Absorbance Capacity) scores - a method of measuring the antioxidant capacity of foods.
The ANDI scale does have its shortcomings; for example, it doesn't measure protein, so nutrient-dense sources of protein such as soy, legumes, and high-protein vegetables have low ANDI scores. The scale also doesn't measure fats, so high-quality monounsaturated fats such as olives and avocados come up short.
Keep these points in mind when you're formulating your diet. Otherwise, it's a great place to start.

The ANDI scale's Top 20 Nutrient Dense Foods List:
Kale
Collard Greens
Bok Choy
Spinach
Brussels Sprouts
Arugula
Cabbage
Romaine
Broccoli
Cauliflower
Green Peppers
Artichokes
Carrots
Asparagus
Strawberries
Pomegranate Juice
Tomato
Blue Berries
Iceberg Lettuce
Oranges