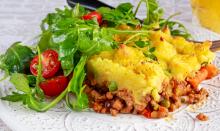 Shepherd's pie is the best kind of comfort food. It's deliciously hearty and filled with all the flavors we love.
Potatoes:
1 1/2 pounds russet potatoes
1/2 cup non-dairy milk
2 tablespoons vegan butter
1/2 teaspoon of salt
1/4 teaspoon freshly ground black pepper
Filling:
2 tablespoons canola oil
1/2 cup chopped yellow onion
2 large carrots, peeled and diced small
1 large clove of garlic, minced
1 12-ounce package frozen Boca Ground Crumbles
1/2 teaspoon kosher salt
1/4 teaspoon freshly ground black pepper
1 tablespoon all-purpose flour
1 cup vegetable broth
1 tablespoon tomato paste
1 teaspoon vegan Worcestershire
1/2 teaspoon dried rosemary
1/4 teaspoon dried thyme
1/2 cup fresh or frozen corn
1/2 cup fresh or frozen green peas
Preheat the oven to 400° F
Start by peeling the potatoes. Cut them into 1-inch cubes and place them in a pot of cold water. Rinse until the water is clear. Fill with cold water and set over high heat. Bring to a boil, then lower the heat and simmer for 10 to 15 minutes, or until the potatoes are tender. Drain off all the water and add the milk, butter, salt, and pepper. Whip with an electric mixer until light and fluffy.
Heat the canola oil in an oven-safe 12-inch skillet over medium heat on the stovetop. Cast Iron works great for dishes that go from stovetop to oven, and we highly recommend it! Add the onion and carrots and saute until slightly tender, about 3 to 5 minutes. Stir in the garlic. Add the frozen Boca crumbles, salt, pepper, and flour. Stir until the flour is completely incorporated. Stir in the broth, tomato paste, Worcestershire, rosemary, and thyme. Bring the mixture to a simmer, then reduce heat, cover, and continue to simmer very slowly until the sauce has thickened slightly about 8 to 10 minutes.
Add the corn and peas to the Boca mixture and stir gently to combine. Top with the whipped potatoes, creating a seal around the edges. Sprinkle with a pinch of salt and freshly ground black pepper.
Place the pan on the middle rack of the oven and bake for 20 minutes or just until the potatoes begin to brown. Remove to a cooling rack for 10 - 20 minutes before serving.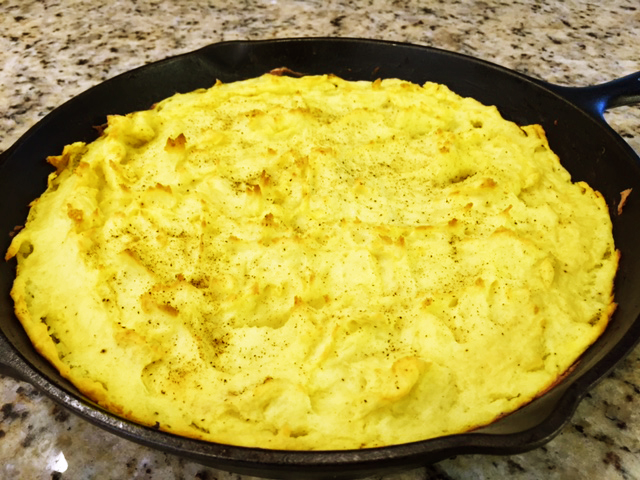 Contains
Butter (vegan)
Carrot
Corn
Garlic
Meatless Ground Crumbles
Milk (non-dairy)
Oil
Onion
Peas
Potato
Wheat Flour