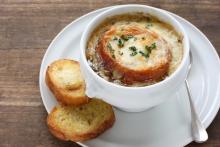 French onion soup is so... French... and SO delicious.
You have to try this vegan version! It's simply delicious!
3 tablespoons olive oil
4 yellow onions, thinly sliced
2 cloves of garlic, minced
1 teaspoon salt
1/4 cup flour
64 ounces (8 cups) prepared Better Than Bouillon No Beef Base Bouillon, or vegetable broth
1/2 cup dry white wine or vermouth
1 large bay leaf
1/2 teaspoon black pepper
10 -12 slices of baguette, buttered and toasted
5 to 6 slices of CHAO Original or Coconut Herb with Black Pepper Vegan Cheese - This cheese melts nicely, but feel free to use your favorite vegan cheese of choice.
Heat the olive oil in a large saucepan over medium heat and add the onions. Cook for 15 minutes, until the onions are translucent. Add the garlic and continue to cook until the onions have browned; 5 to 10 minutes more.
Once the onions have browned, add the flour and stir to combine. Cook for another 2 to 3 minutes until the flour has turned to a paste. Slowly stir in the broth, then add the white wine, bay leaf, and pepper. Use a spoon to scrape the bottom of the saucepan to release all those flavorful bits. Simmer on low for about 20 minutes, uncovered.
Meanwhile, toast the baguette slices.
Remove the bay leaf from the soup, and discard it.
Divide the soup into oven-safe bowls. Top each one with a toasted baguette, then with a slice of cheese. Place the bowls onto a baking sheet and then place them under the broiler until the cheese melts and is lightly browned; about 2 to 3 minutes.
Remove and let cool for a couple of minutes before serving. Top with freshly chopped parsley if desired, and enjoy!
Contains
Cheese (vegan)
Garlic
Oil
Onion