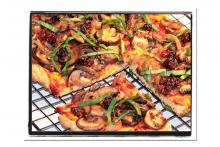 This gluten-free pizza crust is amazingly delicious. The texture is light and crisp, just the way it should be.
Here's how we made it:
1 cup Bob's Red Mill All-Purpose GF Baking Flour
1/4 cup Bob's Red Mill Brown Rice Flour
1 tablespoon potato starch
2 teaspoons baking powder
1/2 teaspoon sea salt
1/2 teaspoon xanthan gum
1 1/2 teaspoons Ener-G egg replacer
2 tablespoons warm water
1/2 cup soy milk
2 tablespoons grapeseed oil
Preheat the oven to 400°
Lightly grease a pizza or jelly-roll pan.
Combine the GF baking flour, brown rice flour, potato starch, baking powder, salt, and xanthan gum in a large bowl. Mix well and set aside.
In a small bowl, whisk the egg replacer with the warm water until bubbles form and the powder has completely dissolved. Add the agave nectar to this mixture, as well as the soy milk and grapeseed oil. Whisk together and add this to the dry ingredients. Stir with a wooden spoon until well combined.
Spread the pizza dough onto the prepared pan until it is reasonably even and about 12 inches round or 12 x 8 inches. (Note: the texture is not that of your "typical" pizza dough. There will be no tossing this one over your head).
Top the dough with your favorite sauce and veggies and bake for 12 to 15 minutes or until the crust is crisp and golden.