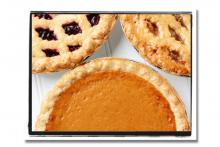 You are going to love everything about this light and flaky pie crust.
1 1/2 cups gluten-free flour (we like Cup4Cup

1/2 teaspoon Xanthan Gum

1/4 teaspoon baking powder
1/2 teaspoon kosher salt
1/2 teaspoon sugar
10 tablespoons Miyoko's Cultured Vegan Butter (Cold and cut into tablespoon-sized pieces)
1 tablespoon apple cider vinegar
4 to 6 tablespoons ice-cold water
Place all of the dry ingredients into a large mixing bowl and whisk together. Using a Pastry Wheel Cutter
or two knives, cut the butter into the flour just until it is distributed evenly and resembles very coarse cornmeal.
Stir together the vinegar and four tablespoons of ice-cold water and add it to the dry mixture. Knead the dough together with clean hands until it begins to come together. Add additional water, one tablespoon at a time, if needed, just until the dough starts to hold together. It will seem a little rough, but don't overwork it. Press the dough into a round disk, wrap the disk in plastic wrap, and store it in the fridge for about 30 minutes.
Preheat the oven to 375&deg, and oil a 9-inch pie plate generously to keep the crust from sticking. Set the dish aside.
Once the dough has chilled, it's time to roll it out. Lightly flour a clean, flat work surface, and place the disk onto it. Lightly flour the top of the disk with more flour and begin rolling it out. Add a little more flour and turn the dough often so it doesn't stick. Once you've rolled out the dough to about 1-inch thick, fold the dough in half onto itself. Sprinkle the top once more with a small amount of flour and roll it out to approximately 1-inch thick. Repeat this process two more times, rolling and folding the dough.
Finally, roll the dough out to approximately 12-inch round and roughly 3/8-inch thick. Loosely roll the dough onto the rolling pin, then drape it over the top of the pie plate. Cut the rough edges of the dough away, then gently lift and reposition it so the dough covers the bottom and sides of the pie plate. Tuck the excess dough around the edges under itself and crimp with your fingers, or a fork, or use a Pie Weights or dried beans. Place in the center of the oven and bake until the edges of the crust are lightly golden; about 10 minutes.
Remove the pie weights and the parchment paper. Allow the crust to cool before proceeding with your recipe.