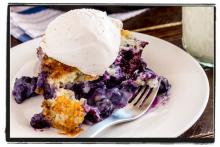 Blueberry pie is one of our favorites and is incredibly delicious heated up with a scoop of vanilla ice cream.
Ingredients:
Crust:
1 cup flour
1/3 cup vegan butter
1/2 teaspoon salt
3 tablespoons water
Filling:
4 cups blueberries
3/4 cup sugar
3 tablespoons flour
dash of salt
1/2 teaspoon cinnamon
1/2 teaspoon nutmeg
Crumb top:
1/4 cup vegan butter, we like Miyoko's
1/4 cup sugar
1/2 cup flour
Instructions:
Crust:
1. Beat water and vegan butter together, add salt.
2. Mix in flour.
3. Then roll dough in between two streets of parchment paper. Roll it out to an even thickness, and just an inch or two wider than your pie pan, place crust in a pie pan.
Filling:
1. In a bowl, combine blueberries and sugar.
2. Mix in salt, cinnamon, nutmeg, and flour.
3. Then place in a pie pan.
Crumb Topping:
1. Combine vegan butter, flour, and sugar, then sprinkle it over the pie.
Bake at 400° for 35-40 minutes
Serve with our homemade Vanilla Ice Cream on top! You'll be glad you did. It's delicious!