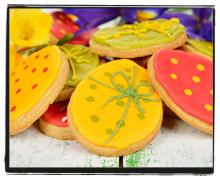 Easter is often a time of year when whole families come together to celebrate! Food, fun, and family time are all on the horizon, making this a memorable occasion for everyone.
These Easter Sugar Cookies are super fun and easy for children to help with.
Gift a few to friends and family. They'll love them!
Cookies
1 1/2 cups powdered sugar
1 cup vegan butter, softened
1/4 cup almond milk
1 1/2 teaspoon pure vanilla extract
1/2 teaspoon almond extract
2 1/2 cups unbleached all-purpose flour
1/4 teaspoon salt
2 tablespoons cornstarch
1 teaspoon baking soda
1 teaspoon cream of tartar
In a large mixing bowl, cream together the powdered sugar and butter. Next, mix in the almond milk, vanilla extract, and almond extract until well combined.
Sift together the dry ingredients: flour, salt, cornstarch, baking soda, and cream of tartar. Stir the dry ingredients into the cream mixture until combined. Refrigerate dough for 1 to 2 hours.
Preheat the oven to 375° F. Use parchment paper or lightly grease the cookie sheet with cooking spray.
Divide the dough in half. Roll each half to 1/4-inch thickness on a generously floured surface. Use Cookie Cutters to cut the cookie dough. Place the cutouts on a cookie sheet 2-inches apart.
Bake 10 to 12 minutes depending on their size, or until the edges are lightly golden. Remove from cookie sheet and place on a cooling rack.
Icing
2 cups powdered sugar
2 tablespoons almond milk
1/2 teaspoon pure vanilla extract
Mix the icing by combining the powdered sugar, almond milk, and vanilla. Whisk together until smooth. Separate the icing into as many bowls/cups as desired for a variety of color options. Add the desired colors to each. Use sprinkles if desired, or serve cookies straight out of the oven - they're delicious!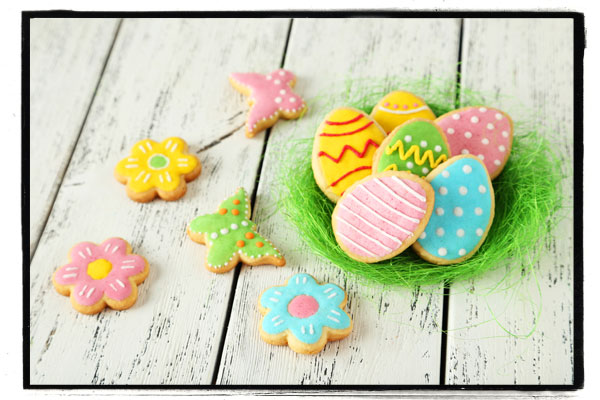 Natural food coloring options:
Use the juice from any of the following ingredients to replace some or all of the milk, and add color to the icing naturally:
Red/Pink:
Strawberries
Cherries
Raspberries
Beets/beetroot (boiled or juiced)
Purple/Blue:
Blackberries
Blueberries
Green:
Kale, boiled or juiced
Spinach, boiled or juiced
Spinach Powder: (Found on Amazon.com
)
Yellow/Orange:
Carrots, boiled or juiced
Golden beets (they impart a very dark yellow color - almost brown!)
Carrot Powder