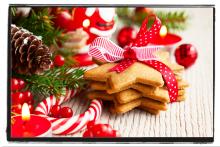 Christmas Cookies are almost a right-of-passage. They're often what entire families come together and make during the holidays as a most delicious tradition.
Whether your cookies are naked and unadorned; frosted; sprinkled, or frosted and sprinkled; one thing's for sure, with this recipe they're bound to be delicious.
Cookies
1 1/2 cups powdered sugar
1 cup vegan butter, softened
1/4 cup almond milk
1 1/2 teaspoon pure vanilla extract
1/2 teaspoon almond extract
2 1/2 cups unbleached all-purpose flour
1/4 teaspoon salt
2 tablespoons cornstarch
1 teaspoon baking soda
1 teaspoon cream of tartar
In a large mixing bowl, cream together the powdered sugar and butter. Next, mix in the almond milk, vanilla extract, and almond extract until well combined.
Sift together the dry ingredients: flour, salt, cornstarch, baking soda, and cream of tartar; stir the dry ingredients into the cream mixture until combined. Refrigerate dough for 1 to 2 hours.
Preheat oven to 375° Lightly grease the cookie sheet with cooking spray. Divide dough in half. Roll each half to 1/4-inch thickness on a generously floured surface. Using the desired shapes, cut cookie dough. Place the cutouts on a cookie sheet 2-inches apart.
Bake for 7 to 8 minutes or until the edges are light brown. Remove from cookie sheet and place on a cooling rack.
Icing
2 cups powdered sugar
2 tablespoons almond milk
1/2 teaspoon pure vanilla extract
Mix the icing by combining powdered sugar, almond milk, and vanilla. Whisk together until smooth. Separate and add coloring if desired. Use sprinkles if desired. Or serve cookies straight out of the oven - they're delicious!
Natural food coloring options:
Add juice from the following ingredients in place of the milk to add color to your icing naturally:
Red/Pink:
Strawberries
Cherries
Raspberries
Beets/beetroot (boiled or juiced)
Purple/Blue:
Blackberries
Blueberries
Green:
Kale, boiled or juiced
Spinach, boiled or juiced
Spinach Powder
Yellow/Orange:
Carrots, boiled or juiced
Golden beets (they impart a very dark yellow color - almost brown!)
Carrot Powder