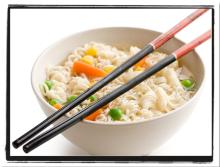 Most of us are familiar with pre-seasoned noodles in styrofoam containers, and many have even eaten their fair share. But, for one that is both easy and delicious, here's a homemade version that doesn't skimp on veggies or flavor.
4 cups of water
2 tablespoons veggie broth, (We used Better than Bouillon
)
1 cup of frozen mixed veggies
1/3 cup spinach, fresh or frozen (optional)
8 ounces ramen noodles, or other noodle-pasta
1/4 teaspoon each, fresh ground pepper, onion powder, and garlic powder
Bring the water to a rapid boil in a medium-sized pot, then stir in the bouillon.
Add the frozen veggies and spinach, bringing it back to a boil.
Reduce the heat slightly to a simmer and cook for 3 to 4 minutes.
Stir in the noodles and the pepper, onion powder, and garlic powder.
Simmer gently for 2 to 3 minutes or until the pasta is al dente.
For the ultimate umami flavor, we suggest adding a drizzle of Yondu Vegetable Umami during the cooking process. You'll be so glad you did!