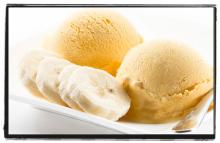 You will love the simplicity and taste of this banana ice cream. It's kind of bananas that all you need is bananas!
2 Frozen bananas*
Thaw the bananas at room temperature for about 5 to 10 minutes before you begin.
Place the bananas in a Food Processor and process until the bananas are smooth and creamy. Enjoy immediately or keep frozen in a sealable container to enjoy later!
Mix it up and create an even more decadent dessert by stirring in a bit of finely chopped walnuts or chocolate shards. Drizzle a little chocolate sauce or caramel sauce over the top!
*Freezing bananas is easy! Remove the peel, cut the banana into 1 to 2-inch pieces and place it in a quart-size freezer bag. Remove as much air from the bag as possible before sealing to prevent freezer burn. Store in the freezer until you're ready to use!
For best results, use within three months of freezing.