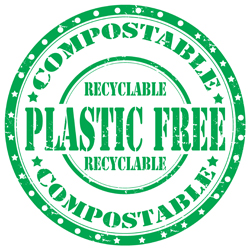 World Centric is a company on a mission to reduce economic injustice and environmental degradation through education, community networks, and sustainable enterprises. How great is that?
Equally as important is the fact that they provide high-quality compostable food service disposables and food packaging products for use in schools, corporate cafeterias, restaurants, hospitals, parties, etc. They make their products from annually renewable resources like corn, sugarcane, and wheat straw fiber, some of which are by-products of the agriculture industry.
And if throwing your old toothbrush in a landfill every few months leaves a bad taste in your mouth, you'll be happy to know that World Centric now offers a compostable toothbrush for only $4.55. They'll even compost the brush for you for free. All you have to do is send it to them!