Category
Sauces, Dips, Dressings & Spreads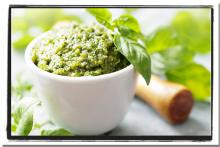 0.5 ounces fresh organic basil leaves, washed and patted dry
1/4 cup vegan romano or vegan parmesan cheese, grated
1/4 cup of pine nuts
1/4 cup of extra virgin olive oil
1 large clove of garlic
Using a blender or food processor, or a Mini Food Processor, which is the perfect size for this job, add the cheese and pine nuts and blend for a few seconds.
Next, add the garlic and basil, and pulse until everything is well combined.
Finally, drizzle in the olive oil while blending until you reach the desired consistency.
Your pesto is ready to use!
This recipe makes roughly 1/3 of a cup of pesto and can easily be doubled, tripled, or more!
Refrigerate any unused portion and enjoy within 7 to 10 days. Or freeze in ice cube trays, then transfer to an airtight container.