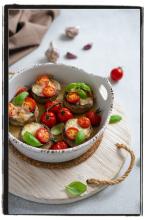 These Caprese Inspired Stuffed Portobellos are full of flavor and goodness. They're a treat beyond treats and utterly irresistible.
Garlic Butter
4 tablespoons vegan butter
2 cloves of garlic, crushed
1/4 teaspoon dried basil
Mushrooms
10 to 12 portobello Mushrooms, cleaned, stems removed
6-ounces vegan mozzarella
1 cup grape or cherry tomatoes, sliced thin
fresh basil, for garnish
Balsamic Glaze
1/3 cup balsamic vinegar
2 teaspoons brown sugar
Preheat oven to 400° F
Combine the butter, garlic, and basil in a small saucepan over medium-low heat until the butter has melted and the garlic is fragrant.
Using a pastry brush, brush the tops of the mushrooms with the butter mixture. Place them top-side down onto a baking sheet, and brush any remaining garlic butter on the underside of each mushroom.
Fill each mushroom cap with mozzarella and top each with a layer of sliced tomatoes. Place the baking sheet on the center rack of the oven. Bake for 12 to 14 minutes or until the cheese has melted and is golden in color.
Meanwhile, add the vinegar and sugar to a small saucepan over medium heat and bring to a simmer. Reduce heat and gently simmer for about 6 to 8 minutes or until the mixture thickens to a glaze-like consistency.
Top each mushroom with fresh basil and drizzle with a couple of teaspoons of the balsamic glaze — season with salt and pepper to taste.