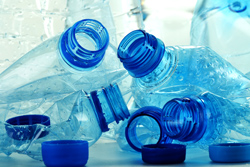 80% of the ocean's garbage patch comes from trash bags and plastic bottles that wash in from the beach. Swirling in the Pacific Ocean is a garbage patch of plastic the size of Texas and growing.
Each year in honor of World Ocean Day, which falls in the month of June, hundreds of people take the pledge to 'Rise Above Plastics' in their daily lives, and you can too! You can do it today!
Make the promise to use less plastic in your life at Surfrider Foundation today! Here are some tips from Surfrider on how you can Rise Above Plastics now!