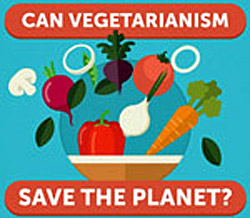 Arbtech, an arboricultural and ecological consulting company has created an infographic about whether or not vegetarianism can save the planet; an interesting topic for vegans and vegetarians alike.
The information, along with easy-to-follow charts, shows us the consequences of growing animals for food, as well as changes we could expect if humans everywhere were to choose a vegetarian or vegan diet over a carnivorous one.
This information is vital for every human being to know and understand. Every choice has a consequence, and it's our right and responsibility to understand what those consequences are.
Knowledge is power. Power promotes change. Change is imminent if we are to live happy, healthy lives.