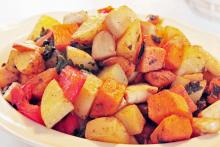 This recipe has a couple of processes, but they're super simple and well worth the steps.
1 14-ounce block extra firm organic tofu
1 cup warm water
2 teaspoons Better Than Bouillon No Chicken Base

3 medium potatoes, cut into small cubes
1 sweet potato, cut into small cubes
1 red bell pepper, seeded and diced
8 to 10 baby Bella mushrooms, sliced
1 cup collard greens, rough chopped
1/4 cup extra-virgin olive oil
1 clove garlic, crushed or minced
2 teaspoons ground cumin
1/4 teaspoon chili powder
1/8 cayenne pepper
1/2 teaspoon sea salt
1/4 teaspoon freshly ground pepper
1/4 cup nutritional yeast
Start by removing all of the water from the tofu. Cut the tofu in half lengthwise, then cut each one into four pieces. You will now have eight. Next, cut each one into four. If our math is right, you should now have 32 perfect little squares of tofu! Stir the water and bullion together in a medium-sized bowl until the bullion has dissolved. Add the tofu and cover and refrigerate until ready to use.
In a small bowl, whisk together the olive oil, garlic, cumin, chili powder, cayenne pepper, salt, and freshly ground pepper. Set aside.
Place the potato, and sweet potato, onto a baking sheet and drizzle with the olive oil mixture. Bake at 400° for 15 minutes. Add the bell pepper, and continue to cook for another 10 to 15 minutes, or until the potatoes are fork-tender. Turn the vegetables as needed for even baking. When the vegetables are tender, remove them from the oven, and set aside.
Using a slotted spoon, remove the tofu from the broth and drain on paper towels. Heat two tablespoons of olive oil in a large skillet over medium-high heat. Add the tofu and mushrooms to the skillet. Cook for 3 to 5 minutes, occasionally stirring until the mushrooms begin to brown, and the tofu is heated. Add the roasted vegetables and collard greens, and continue to cook for another 3 to 5 minutes. Stir in the nutritional yeast, and serve!
Refrigerate any leftovers.
Contains
Bell Pepper
Garlic
Mushrooms
Potato
Sweet Potato
Tofu