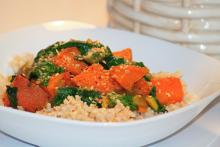 Sweet potatoes and brown rice are paired perfectly in this dish that is both flavorful and filling.
1 Tablespoon olive oil
1 red onion, thinly sliced
2 cloves garlic, finely chopped
1 teaspoon freshly grated ginger
1 4-ounce can fire roasted diced green chilies
1/2 teaspoon ground coriander
1/2 teaspoon ground cumin
1/2 teaspoon dried mustard
1 teaspoon turmeric
2 large (or 4 cups) sweet potato, diced with skins left on
2 cups low-sodium veggie broth
2 cups spinach, coarsely chopped
4 tablespoons toasted almond, ground
Make the brown rice according to the package directions, using a low sodium vegetable stock in place of the water.
Heat the oil in a large saucepan and cook the onion, garlic, ginger, and chilies.
When the onion is soft, stir in the spices and heat until they become fragrant. Add the sweet potato and vegetable stock, and cover and simmer for about 15 to 20 minutes, or until the sweet potato is tender. Stir in the spinach. Once the spinach has wilted, the curry is ready!
Serve the curry over the rice in individual bowls and top each serving with a tablespoon of toasted almond.
Contains
Garlic
Ginger
Onion
Rice
Spinach
Sweet Potato