Category
Sauces, Dips, Dressings & Spreads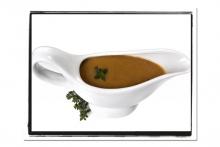 Who doesn't love a rich, creamy, flavorful gravy you can drizzle onto your potatoes? But don't stop there! You can pour this on just about everything! It's that good!
2 tablespoons canola oil
1 medium onion, diced small
1 large clove garlic, minced
1/3 cup nutritional yeast flakes
2/3 cup all-purpose flour, or gluten-free all-purpose flour
4 cups of water
3 tablespoons Tamari
1 1/2 teaspoons dried thyme
pinch of sea salt
freshly ground black pepper
Heat a Large Skillet over medium-high heat, then add the oil. Add the onions and cook until soft. Combine the nutritional yeast and flour, then add the mixture to the sautéed onions. Lower the heat to medium and continue cooking for 1 to 2 minutes, or until golden, stirring continuously.
In a separate container, combine the water, tamari, and thyme. Slowly add the liquid, whisking continuously. Cook until the gravy begins to bubble and thicken.
For a completely smooth gravy, run an Immersion Multi-Purpose Hand Blender
through the gravy for a minute or two, until smooth. Season the gravy with salt and pepper to taste.
Keep any leftovers in the fridge for up to three days or in the freezer for up to three months. Then, take it out when needed, thaw, reheat, and enjoy!