Congratulations to Mylo, dculli9395, kaykakis, and Curly_Vegan_Cook from Instagram! You are the 4 lucky winners of our Vegan Cuts Beauty Box Giveaway!
We've emailed each of you regarding the next steps for collecting your prize, so be sure to respond as soon as you are able and we'll get your prize out to you ASAP!
Thanks to everyone who entered. Watch for our next giveaway coming soon!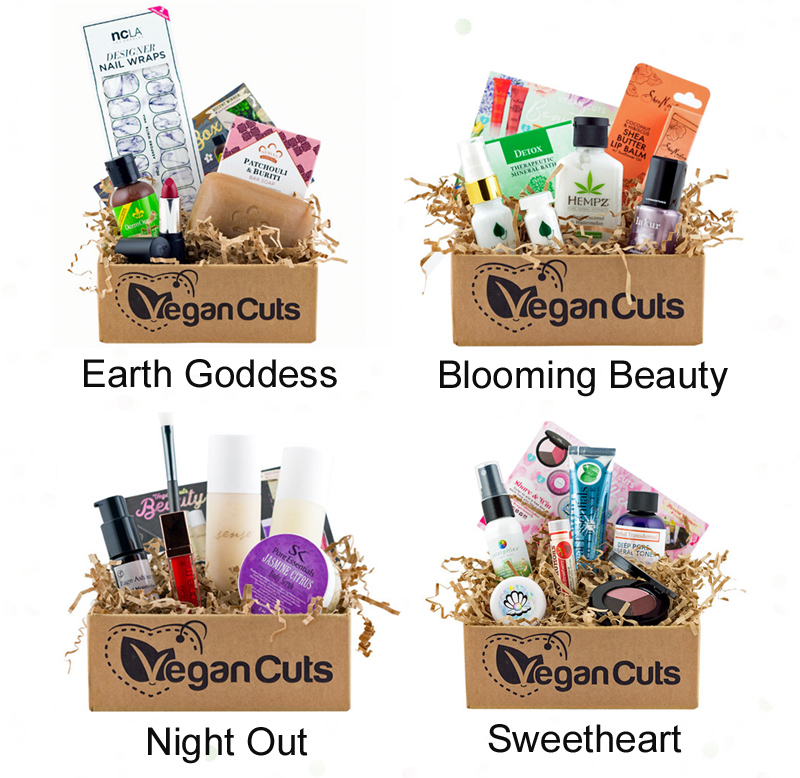 It's GIVEAWAY TIME and time to get your glam on!
We're beyond excited to give away four Vegan Cuts Beauty Boxes! And just in time for the holidays when you want to look and feel your best.
We've made it super easy for you to enter and win. So. Let's get started!
To enter, tell us your favorite thing about the holidays in the comments below, then let us know which of the four beauty boxes you would like to receive if you're one of our winners!
You must be logged in to your account to leave a comment. Don't have one yet? Sign up here!
For additional chances to win, you can LIKE US and our giveaway post on FACEBOOK and SHARE it while you're there! You can also FOLLOW us on INSTAGRAM and tag a couple of friends in the comments section! And you can FOLLOW us and RT our giveaway post on TWITTER too!
Here's what you can win! (Good luck!)
Box #1 - Earth Goddess Beauty Box
Red Apple Lipstick $23.50 (4.5 g)
Moisturizing, gluten free and paraben free lipstick that allows you to build up color for a beautiful day or night look.
It's a surprise to see if you will receive Twist & Pout or Rebel.
Nubian Heritage Patchouli & Burti Toning & Uplifting Bar Soap $4.99 (5 oz)
A blend of buriti oil, shea butter, rosehip seed oil, and patchouli create a fragrant, soothing and hydrating cleanser.
ncLA Designer Nail Wraps $16.00 (26 nail wraps + nail file)
Sleek, modern looking nail wraps to get your nail game on point. (Includes two applications-depending on nail size).
It's a surprise to see if you will receive Ashford White or Butterfly Bloom.
DermOrganic Intensive Hair Repair Masque $6.00 (2 fl oz)
Restore your hair's resilience with this repair masque rich in rice amino acids.


Box #2 - Blooming Beauty Box
Shea Moisture $3.99 value (.5 fl oz)
Replenish and rejuvenate dry lips with an organic shea butter balm blended with enticing fruity and floral flavors.
Modicum Skincare Duo $32 value (Cleanser 10ml/Exfoliant 10ml)
A bliss-inducing duo of a cleanser and an exfoliant to pamper your skin.
Plantlife $5.95 value (3 oz)
"Detox" or "Relax" with this therapeutic mineral bath salt.
It's a surprise to see what scent you will receive.
Hemp $7.30 value (2.25 fl oz)
100% pure hemp seed oil - body moisturizer infused with coconut & watermelon extracts that rejuvenates and revive skin.
Londontown $16 value (.4 fl oz)
High-shine and chip resistant nail lacquer in a sparkling metallic mauve color.


Box #3 - Night Out Beauty Box
Luxie Beauty $16 value (#227 Blending Brush)
Dense, yet soft-to-the-touch onyx noir blending eye brush; a makeup collection must-have.
William Roam $7 value (2.5 fl. oz)
Hydrating and fresh feeling shampoo for all hair types.
William Roam $7 value (2.5 fl. oz)
Perfect complement conditioner for all hair types.
Page Ashbury $7.50 value (.5 oz)
Rejuvenating facial moisturizer powered by jasmine and neroli essential oils and aloe vera.
SK Pure Essentials $4.50 value (2 oz)
Gently exfoliating organic cane sugar body scrub infused with jasmine and citrus oils.
Melanie Mills Hollywood $24 (.176 oz)
Show your lips some love with this luxurious lip color.
It will be a surprise to see if you receive the color Naked, Uncontrollable or Unstoppable.


Box #4 - Sweetheart Beauty Box
Emani Vegan Cosmetics $20 value (.14 oz)
Eyeshadow trio with three color options to help your look go from subtle at work to head-turning for a night out. You will receive either Tango or Feeling-Blessed.
It's a surprise to see what color you will receive.
The Ariel Co. $9 value (.896 oz)
Cotton candy bubble gum flavored "Cupid" antioxidant-rich lip scrub.
Herbal Transdermal $3 value (2 fl oz.)
Grapefruit mineral toner that effectively cleans skin and refreshes with a wide variety of helpful nutrients.
Oral Essentials $4 value (.8 oz)
Fluoride-free toothpaste using a perfect blend of various oils and dead sea salt to whiten teeth without harming enamel.
Earthly Body $3.99 value (1 fl oz.)
Protect your hair's color and shine with this sunflower seed extract fortified treatment.
Crazy Rumors $3.99 value (.15 oz)
Out of this world flavored lip balm that goes on smooth and is made with organic ingredients.
We will announce the winners on FRIDAY, DECEMBER 15th, 2017.
LIMIT ONE COMMENT PER ENTRY. MULTIPLE COMMENT ENTRIES WILL NOT BE CONSIDERED. PERTAINS TO THE UNITED STATES ONLY (NO INTERNATIONAL SHIPPING, SORRY).
THIS GIVEAWAY ENDS AT MIDNIGHT PST, THURSDAY, DECEMBER 14th, 2017
AFTER WINNER IS ANNOUNCED, ADDITIONAL INSTRUCTIONS FOR CLAIMING YOUR PRIZE WILL BE EMAILED.
NO PURCHASE NECESSARY TO PARTICIPATE IN THIS GIVEAWAY.
VOID WHERE PROHIBITED BY LAW.