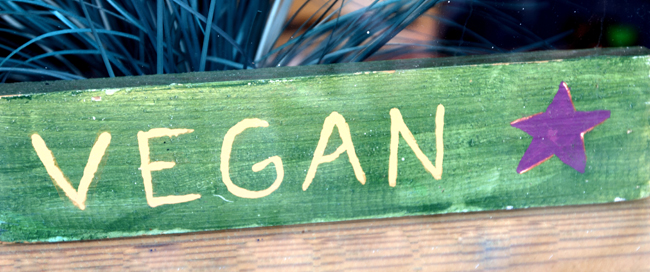 Making a last-minute run to the store is one sure way to stop production in the kitchen along with all creativity, and that's the last thing you want! Planning and maintaining a well-stocked vegan pantry is the best way to keep your momentum and creativity flowing.
Here are some suggested items to keep in your pantry and fridge for quick and delicious meals anytime. Choose a few (or all) of the items from each section, and you'll be well on your way to creative, healthy cooking anytime!
Grains
Grains are a great source of vitamins, minerals, amino acids, and fiber. Buy them in moderate quantities and store them in tightly sealed containers in a cool cupboard. Add a bay leaf to your grain jar to keep the bugs out.
Keep on hand:
Barley
Brown rice, long and short grain
Cornmeal
Kasha
Rolled oats
Orzo
Pasta (Various grains and shapes)
Quinoa
Unbleached all-purpose flour
Whole wheat pastry flour
Wild Rice
Legumes
Dried legumes are rich in fiber, and provide a good deal of protein and minerals. Stock a good variety as they are necessary for a healthy vegan diet.
Keep on hand:
Black beans
Cannellini beans
Garbanzo beans
Kidney beans
pinto beans
Lentils
Split peas
Fresh Fruits and Vegetables:
Everyone's diet should include a good variety of fresh fruits, vegetables, and herbs. Along with great color, texture, and flavor, they provide needed vitamins, minerals, and fiber. The nutrients in fresh produce decline fairly rapidly, so shop only for what you can use within a few days, and consume it quickly.
Store in the pantry:
Vegetables:
Onions, shallots, garlic, potatoes, sweet potatoes, and winter squash.
Fruits:
Apples, avocados, bananas, citrus fruits, mangoes, papayas, pears, pineapple, and melons.
Store in the refrigerator:
Vegetables:
Artichokes, asparagus, carrots, celery, green beans, salad greens, broccoli, cabbage, cauliflower, beets, rutabagas, green onions, ginger, chilies, parsley, cilantro, basil, eggplant, zucchini, and other summer squash.
Fruits:
Strawberries, blueberries, and figs.
Utilizing the freezer is an excellent way to keep the "basic four" on hand; green beans, yellow corn, diced carrots, and green peas. These vegetables can be used in making a variety of soups and stews, as well as a convenient side dish.
Dried Fruits:
Natural food stores are an excellent place to find a wide variety of dried fruits. You can find smaller sections in many major grocery stores. Dried fruits should be kept in airtight containers, such as glass jars with tight fitting lids, and stored in a cool, dark place. Bear in mind the sugars and calories in dried fruit are concentrated, so you'll probably want to eat them in moderation.
Keep on hand:
Dried apricots, dried cranberries, dried figs, dried mangos, prunes, raisins, and sun-dried tomatoes.
Sea Vegetables:
Seaweeds, or sea vegetables have been consumed and enjoyed for centuries. They add great flavor, variety, and nutrition to a healthy vegan diet. They're an easy-to-digest source of minerals, and they offer a healthy dose of fiber to the digestive tract. While Kombu is traditionally used to make a flavorful broth and makes an excellent addition to a pot of beans, wakame and hijiki can be served raw in salads after reconstituting them, and they're also amazing when stir-fried, or cooked up in soup. While Nori sheets are most commonly used to make sushi, they can be cut up and used in soups as well.
Keep on hand:
Dulce, Hijiki, Kombu (kelp), Nori, and Wakame.
Soy Foods:
There has been quite a bit of research on soy products, and while some are quick to put it down, others defend it to the death. The truth is, when eaten in moderation, soy is a great alternative for anyone who is lactose intolerant or skipping dairy for other reasons. Soy is low in fat, high in protein and fiber, and may even be linked to the prevention of cancer.
Keep on hand:
Miso, light and dark, Soy milk, Tamari soy sauce, Tempeh, and Tofu.
Nuts and Seeds:
Nuts are an excellent source of protein, B vitamins, phosphorus, iron, and calcium. They add flavor and texture to everything, from salads to desserts. Using nut and seed butter such as almond butter, peanut butter, and sesame butter are another way to incorporate nuts and seeds into your diet. The healthiest nut and seed butter should contain nothing but the nut or seed itself, and maybe a small amount of salt. Any other ingredients are unnecessary. Nut and seed butter will need to be refrigerated once they have been opened as they tend to go rancid quickly when exposed to light and air.
Keep on hand:
Almonds
Almond butter
Flaxseeds
Peanut butter
Pecans
Pine nuts
Pumpkin seeds
Sesame butter (tahini)
Sesame seeds
Walnuts
Oils:
Oils play a significant role in any healthy diet. Seed and vegetable oils are healthy fats and should be included in your diet but eaten in moderation. Lard, shortening, and hydrogenated oil, on the other hand, is subjected to high heat, intense pressure, and chemical corruption. Both taste and nutrition are compromised during this process; including lecithin, a vital participant in fat metabolism, as well as vitamins A, B, E, and K.
Keep on hand:
Canola oil
Sesame oil
Olive oil
Sunflower oil
Dried Herbs and Spices:
Amazing things begin to happen when you add herbs and spices to your cooking. Whether you use fresh, dried, ground or whole; herbs are your go-to magic wand in the kitchen. While dried herbs have a stronger flavor and are typically added early in the cooking process to allow time to impart their flavors, fresh herbs are commonly added at the end of the cooking process to preserve their colors, aromas, and flavors.
Keep on hand:
Allspice
Basil
Bay leaf
Caraway seeds
Cardamom
Chili flakes
Cinnamon, sticks and ground
Cloves, whole and ground
Coriander
Cumin
Curry powder
Dill
Garlic, granulated
Ginger, ground
Italian Seasoning
Kosher salt
Oregano
Nutmeg
Paprika
Pepper, black and cayenne
Rosemary
Sage
Sea Salt
Tarragon
Thyme
Turmeric
Keep dried herbs and spices in a cool, dark place. While storing them above the stove may be a convenient spot, the heat from your stove may damage them.
Vinegars:
Vinegar is excellent for flavoring, and it's good for your health. Naturally-fermented vinegar made from brown rice and apple cider provide enzymes and healthy bacteria that stimulate digestion in those with slow moving systems.
Keep on hand:
Apple cider vinegar
Balsamic vinegar
Brown rice vinegar
Raspberry vinegar
Red wine vinegar
Umeboshi plum vinegar
White wine vinegar
Sweeteners:
Everyone enjoys sweets and knowing the healthiest sources makes creating and eating them, all the better!
Keep on hand:
Blackstrap molasses
Brown rice syrup
Maple syrup
Organic granulated sugar
Turbinado sugar
Though honey offers some nutritional value, the fact that bees produce honey, and many bees are destroyed during the harvesting process, honey is not an acceptable vegan choice.
Wines and Spirits:
There are many culinary uses for red and white wines, sherry, rum, brandy, and even beer. Wines and spirits add flavor without adding fat. During the cooking process, the alcohol is destroyed, which leaves the amount in the finished dish insignificant.
Keep on hand:
Brandy
Dry sherry
Marsala
Mirin
Port
Red wines; Merlot & Cabernet Sauvignon
Rum
Vermouth
White wines; Chardonnay and Sauvignon Blanc
Condiments and More:
Whether for a recipe or serving at the table, condiments have long been available in the kitchen and the dining room. There are several to choose from, so pick the flavors you enjoy the most.
Keep on hand:
Capers
Catsup
Mango Chutney
Mustard, various kinds
Pickled jalapenos
Prepared horseradish
Salsa
Vegenaise
Convenience Foods:
Sometimes you just need to walk into the kitchen, make something quick and be on your way. So we've put together a list of convenience foods that can satisfy your hunger in a hurry.
Keep on hand:
Beans, canned (black, garbanzo, kidney, and red)
Fruit preserves
Granola and other high-fiber, whole-grain dry cereals
Olives

Peanut butter
Pickles, sweet and dill
Crackers, whole grain
Tomatoes, canned (diced, sauce, and whole)
Tomato paste, in a tube
Tortillas
Whole-grain bread
Stocking your pantry with as many of the items in this section will help make your kitchen experience pleasant, satisfying, and delicious!
You might also like Vegan Grocery.